RIVAL recruit
ONLY APPLICANT TRACKING SYSTEM PRE-LOADED WITH OVER 700M CANDIDATES
Rival is user-friendly, flexible and enables us to recruit in multiple ways while given each location their individuality.
go beyond the status quo: recruit for the future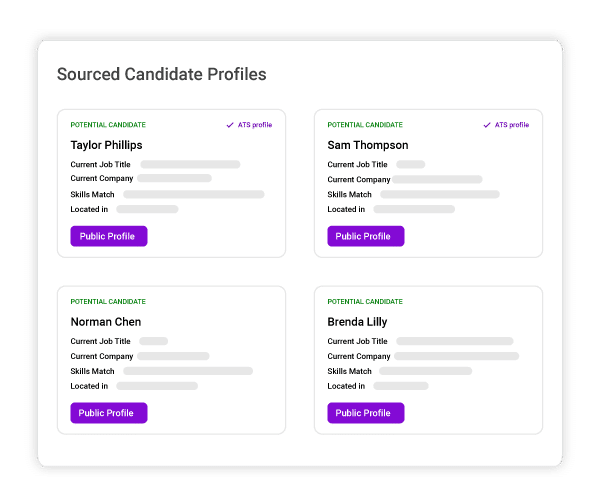 AI-ENABLED CANDIDATE SOURCING
Unlock the power of 700 million embedded candidate profiles
Discover, assess and connect with the perfect candidates for your job openings right from the start. Accelerate your recruitment process, surpass your rivals and secure top talent faster. Boost recruiter efficiency, satisfy hiring managers and align with your company's objectives.
analytics & business intelligence
Measure performance, identify bottlenecks & drive outcomes
Measure KPIs, assess compliance and analyze recruitment funnel performance to identify trends, improve decision making and optimize your hiring strategy. Unlock your business potential with data-driven strategies that enable you to adapt more readily to change and disruption and stay ahead of the competition.
APPLICANT TRACKING
Source, screen, tag and disposition candidates with ease with a modern UI
Streamline recruiting workflows across hiring teams and technology to reduce time-to-fill and cost-per-hire. Leverage a free, expansive job distribution network to increase applicants. Screen and disposition candidates with ease with pre-screening questions and Hot Match technology.
SCHEDULING & CONVERSATIONAL MESSAGING
Convenient, consumer-like candidate experiences
Streamline communication and avoid missing out on top-tier talent by providing convenient options for interview scheduling. Stay efficient, save time and eliminate the hassle of phone tag with the ability to answer queries and facilitate interview rescheduling quickly.
engage
Enhance employer branding & elevate recruitment strategy
Optimize your candidate experience with precise sourcing, targeted recruitment marketing and hosted apply to drive more conversions. Rival Engage can be integrated with an ATS or HCM suite of choice to provide a seamless application experience for candidates while improving recruiter efficiency and impact.
integrations
Rival seamlessly integrates with major vendors and platforms for applicant tracking systems, background checks, sourcing, assessments and Hosted Apply solutions.