ONBOARDING AND WORKFLOW AUTOMATION
RIVAL ONBOARD
With Rival Onboard, we've created a completely different new hire experience. We've gone from a compliance focus to a more strategic program that includes an introduction to the culture, communication of the new hire's role in the organization and meeting all compliance needs.
AUTOMATE HR, IT & SECURITY WORKFLOWS
Optimize and coordinate cross-functional workflows
Streamline key data and workflows across tools and systems across HR, Finance, IT and Security in a unified experience for provisioning, system access, security across new hire onboarding, crossboarding, offboarding and every inflection point in between.
MANAGE COMPLIANCE AT SCALE
Ensure compliance with regulatory requirements at scale
Manage and track employment eligibility and local, state and government regulatory requirements and policies. Manage and visualize the I9 and eVerify process with a single solution directly integrated with the Department of Homeland Security. Administer and track policy acknowledgments with advanced validation. Leverage a managed forms library comprised of local, state and government forms.
COMPELLING OFFERS THAT CONVERT
Dynamic, branded offers, contracts and agreements with electronic signatures at scale.
Eliminate delays due to lengthy, complex approval processes and improve offer acceptance with engaging digital offers. Reduce administrative effort and costs and improve compliance adherence with dynamic, tailored legal language such as benefits, bonuses and options.
JOURNEYS FOR EVERY INFLECTION POINT
Automate and optimize the employee experience from offers to preboarding to promotions to offboarding.
Deliver personalized, branded journeys to employees at the right time to ensure inclusion, strategy alignment, productivity, engagement and retention. Achieve a consistent employee experience across the lifecycle with journeys for transfers, promotions, leaves of absence, mergers & acquisitions, offboarding and rehired employees.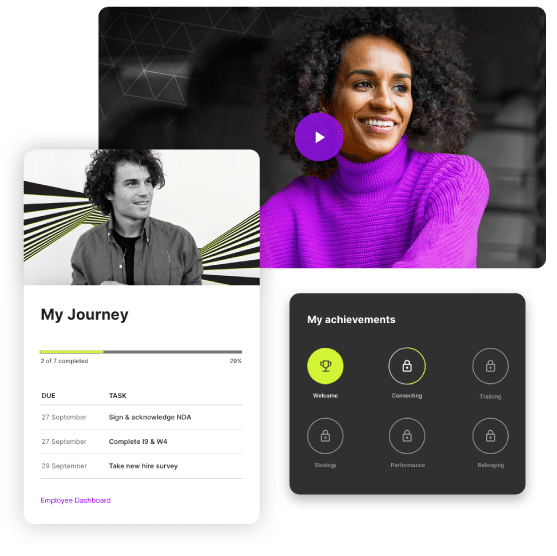 DRIVE ENGAGEMENT & RETENTION
Foster communication, feedback, enablement & insights
Measure engagement, acculturation, readiness and satisfaction at various points in the employee lifecycle. Send offers, engage and welcome new hires and notify them of critical tasks via SMS.
ENABLE MANAGERS
Data-driven onboarding insights and engagement for managers
Configurable dashboards provide actionable transparency around the offer and new hire process for managers and stakeholders. Deliver enablement and training to empower managers to engage their new hires better and drive time to productivity. Reduce manager reliance on HR business partners and provide clarity on the manager's involvement in the onboarding process.
integrations
Whether you need an end-to-end solution or a single product that can plug into your existing stack, Rival is designed to fit your needs for maximum impact. Rival Onboard seamlessly integrates with background checks, payroll, HCM suite, EDMS and ATS vendors of choice.